WICK TRIMMER
Regular price
Sale price
$10.00
Unit price
per
Sale
Sold out
Share
An important step in proper candle care and maintenance is to ensure your candle's wick is an appropriate length for the best burn possible.  A wick that is too long can cause your candle to burn too hot, leading to uneven burning and a smoky flame. Trimming the wick to the correct length before each use can help to prevent these issues and ensure a longer-lasting, cleaner burn.
This Jamcat Candles wick trimmer helps you easily and cleanly keep your wicks even, trimmed and ready for each burn.  A great gift for the candle lover in your life!
7" in length
Comfortable and ergonomically shaped
Stainless Steel
Ingredients

CANDLE INGREDIENTS: Jamcat Candles may appear anything but simple on the outside, but the 3 ingredients we choose to put inside them are!  

We prefer to use soy candle wax, because it is not derived from petroleum oil based by-products, but rather from the natural, renewable resource of soy.  We believe soy candles have a cooler, cleaner burn, with less soot production than paraffin candles. They also have a slower burn time and an easy clean up.

The cotton wicks that help your candle glow are designed to provide a cooler burn and produce less mushrooming, which is that ball of soot that can accumulate at the top of the wick.

Fragrance oils have been selected that are infused with essential oils and are free of a chemical solvent called a phthalate.  

WAX JAMMIES INGREDIENTS:  See above, minus the wick!

ROOM SPRAY AND TOILET SPRAY:  Your fragrant sprays are made of fragrance oils, alcohol and distilled water.  So are your toilet sprays, but they have a splash of liquid soap included, to help bind the ingredients and keep your toilet water clean.

 

Thanks for taking the time to learn more about the ingredients we use in our candle lab! We only put "stuff" into our products that we are comfortable with in our own home.

Enjoy your products!
Candle Care

Care, caution and proper maintenance should always be taken while enjoying your Jamcat Candles.

The general rules of candle safety are to burn within sight, keep the candle away from things that can catch fire and keep away from children and pets.

Avoid drafty areas and do not move your candle while lit, and burn only on a level, heat resistant surface.  The industry standard for keeping a candle lit is for no longer than 4 hours at a time.  So, please make sure before leaving the house, or going to sleep, you check to make sure your candles have been extinguished.

For additional information regarding the importance of your candle's first burn, or trick's to extinguishing your candle, please click this link to read our comprehensive candle care page.
Shipping

We offer a flat $8 shipping charge, and orders of $85 or more qualify for free shipping! (to one location;  not including wholesale, or rush orders.)

Depending on the nature of your order, your purchase will be shipped out as soon as it is completed.  You will receive an email with tracking information, notifying you of its status.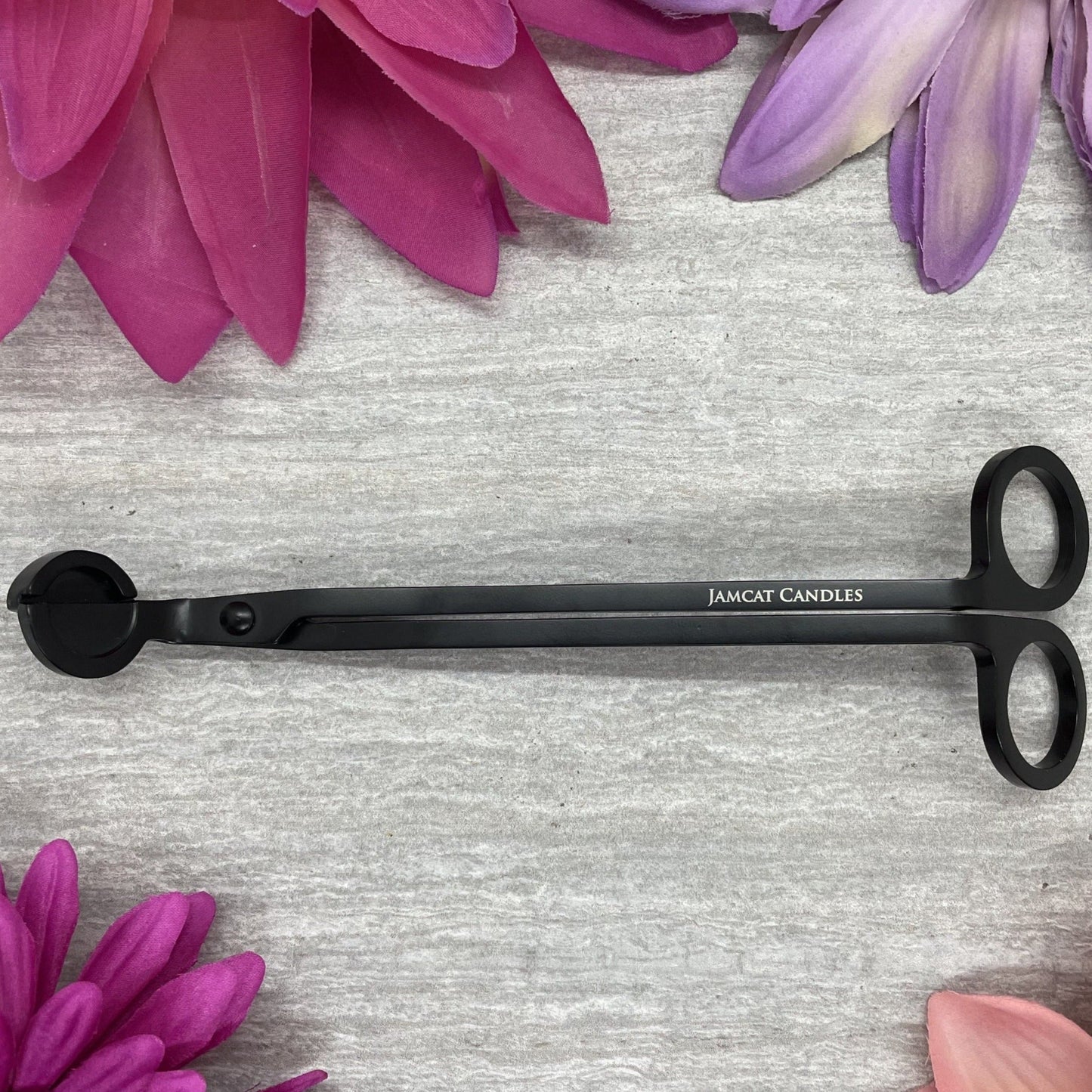 Customer Reviews
This is a must have item!
I've cut candle wicks with scissors forever. However this works much better. It cuts the wick and usually keeps the cut wick piece up off the candle so it is easy to toss out. I no longer mess with a black mark on the top of my candle because a piece of the wick fell off into the candle. (This happened often when I used scissors) I'm much better about cutting my wicks because I have the proper tool that makes it super quick and easy.
01/13/2022
Jamcat Candles
Laura, thank you so much for such a wonderful review! I'm so pleased to hear you are putting your wick trimmer to good use, and that it's treating your candles so well! Keep trimming those wicks so that they can provide your candle with a more long lasting, cleaner burn! Thanks again! Janet